Public Port Forwarding 2.0: The Public Port Forwarding software is an online web proxy service to your internal website. You can just easily go to your internal website on internet no matter your website behind tight firewall or ISP blocking.
What you need to is just deploy our client software in the computer within the same LAN with your target internal website. And then input field of "Internal Website" in our client software to be local ip address or local host name of your internal website. Then just visit "www.publicforwarder.com", you will see your internal website there magically.


(Lifetime price is just only $99. No network traffic charge per month and no any hidden cost)
There are some scenarios that our software could be useful for you:
1. Your local website behind a tight firewall and your computer don't have public ip address. You have no way to visit your local webiste on internet in this scenario. But by using our software, you can easily visit your local website by using our public domain "publicforwarder.com".
2. Your computer connect to internet by using ADSL. So you have different public ip address everytime when you connect to internet. And your ISP might block your website port, so you still don't have a good way to visit your local website on internet.
3. Your computer behind a router. You don't know how to set your router for your local website. So you still can use our software in this scenario.
4. Normally, you can visit your router info by using a web browser. For example, http://10.10.24.1, the is the URL path of your router. Then you can check your router's setting. But on internet, you can hardly done this. There is no good way to visit your internal router's setting page. So again, you can use our software done this to let you easily access your router's info on internet. Then you can do some actions, like add port forwarding entry into your router or delete them from your router.
Below are steps of how to use our software:
1. Download the Public Port Forwarding Client software and install it on a computer locate in the same LAN with the computer running your local website.
2. When you launch the client software, it will let you input your account info.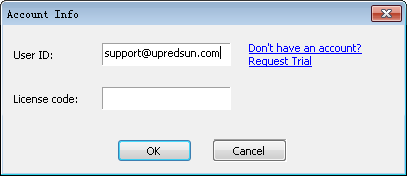 You can input your email address here and then click "Request Trial" link to get your trial license code, then you will have three days to check the software.
You will get a trial license email with like below info:
user_id: support@upredsun.com
license_code: aaaabbbbccccdddd
You should put user_id and license_code into above "Account Info" dialog.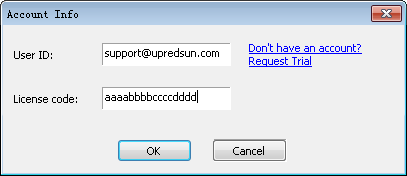 3. Now you can click "add" button on the gui of Public Port Forwarding Client software to add a port forwarding entry to your local website.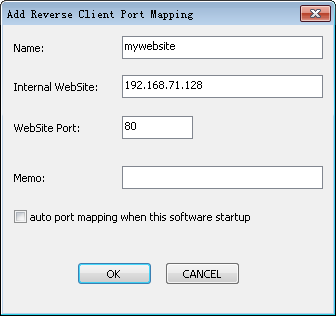 The "Internal Website" should be the ip address or computer name that running your internal website. The "Website Port" should be the port that your internal website is listening. Here we are running the http explorer file sharing software. The software will create a local webisite for sharing your files.
Then you can click "start" button on gui to start the entry and connect to our online Public Port Forwarding service.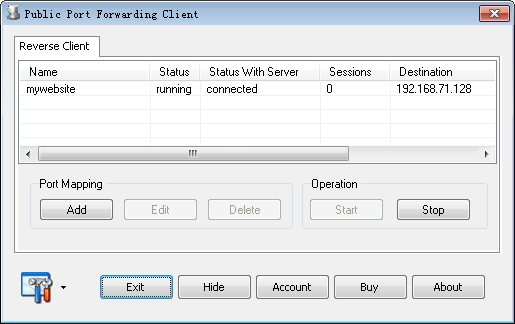 Then you will see the colum "Status With Server" become to be connected. That means the client software has already connected with the online service.
4. Launch your web browser and type our domain name "www.publicforwarder.com". The web browser will pop up a dialog to let you input user name and password.

The user name will be the value of user_id in your email you got. The password will be the value of license_code in your email you got.
Then magically you will see your local file sharing website now.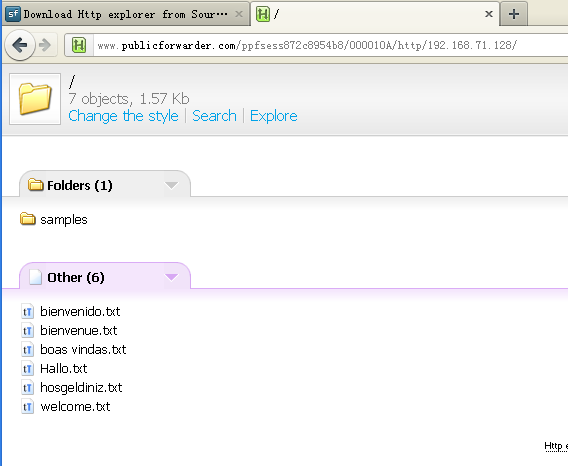 ---